Why practice Aikido?
Aikido and a healthy active lifestyle go hand in hand. These days people do not just practise Aikido for self defence, although the techniques provide a highly effective regime for controlling violent people. Many students are drawn to Aikido's overall stretching, rolling and harmonious movement. From sitting to standing to controlled falling, practitioners are able to enjoy a full body "work-out" which stresses "extending energy", "relaxed exertion" and working physically with a "partner".
Parents who enrol their children, want them to learn non-aggressive ways of self protection that do not involve teaching children to hit or kick another child. Aikido students learn powerful harmonious ways to control aggression and bullying.
New members range in age from 7 to (almost 70). Many recent students in their earlier years did karate or kung fu. Now in their 50's and 60's they are interested to continue their training (often after a considerable gap in time) with a renewed focus on balance, breath and body awareness. Men and women both benefit from Aikido's intelligent, non-violent movement patterns.
The Ku-ring-gai Dojo has been active in the local area teaching Aikido for over 30 years. The Club and its members, provide expert instruction in Aikido, conduct seminars and give demonstrations (as far afield as Cowra each year for the Sakura Matsuri). And the members enjoy coffee and croissant at Pierre's Patisserie at Turramurra each weekend, after training.
The Aikido Club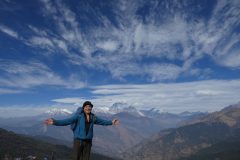 Beginners are Welcome
The first Wednesday of the month we run a special Beginners Class to introduce people to Aikido. Learn the basics of how to protect yourself using the way of Harmony.
The course fee is only $80 for the 4 week programme.
Children's classes
Do you want your children to learn techniques to survive bullying and school conflicts - powerfully and collaboratively?
We run a special class for children that teaches them safe, harmonious ways of dealing with conflict and aggression.
'100 Variations' SEMINAR
Beginning 2018 from 26-28 January
Seminar over 3-days training in Aikido variations for the five basic forms:
Shiho-nage, Kokyu-nage, Kote-gaeshi, Irimi-nage, Koshi-nage.
CHECK the CALENDAR
We have an active program of training and special seminars throughout the year both in Sydney and visiting country NSW centres.
Check the Calendar for key dates - the start of the next Beginners Course and the term dates for the Children's class.
Corporate Aikido Courses

Conflict Connexus provides experiential courses in the Way of Harmony for corporations that want their staff to understand how to use Aiki Principles to resolve workplace conflict.
 www.conflictconnexus.com
FOR SALE
Hand Made wooden practice weapons.
SMALL:
LARGE:
Ku-ring-gai Dojo Activities
Aikido Australia TWEETs
Ku-ring-gai Dojo
@AikidoAustralia