As required by government regulation the Dojo is currently closed due to the COVID-19 pandemic until further notice
Located on the upper north shore of Sydney, the Ku-ring-gai dojo is an affiliated club with the Aikido Australia association. I established this dojo 35 years ago on returning from obtaining my black belt qualification in Japan. I have been providing instruction in the martial art of Aikido, continuously since that time.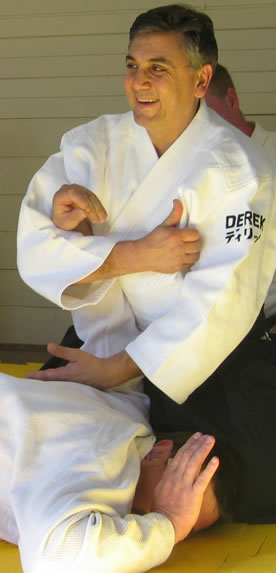 I teach the Aikido I learnt at O'Sensei's private dojo in Iwama, Japan where I was taught this art by Morihiro Saito Sensei 9th dan, who served the Founder of Aikido for 23 years and by his student and my personal teacher of 40 years, Saburo Takayasu Shihan 7th dan.
The primary feature of O'Sensei's final form, which he called takemusu aiki, is the integration and practice of both empty hand and weapon techniques of principally the sword and staff. Although derived from the ancient practices of samurai warriors and using the same weapons and fighting techniques, it is a unified and modern martial art infused with the principle of aiki and the harmony of human relationships.
With over three decades of experience teaching the martial art of Aikido in the Ku-ring-gai area, the dojo welcomes all people who want to learn harmonious and powerful techniques of self defence. Now, joined by my senior students, the Club provides a range of Aikido classes each week and seminars during the year for: beginners, children and experienced practitioners.
All of our instructors have over ten years experience teaching Aikido, are internationally graded by the Aikikai in Japan and have a life long commitment to studying and applying the principles which underly this special martial art.
This website provides full details of our lineage, affiliation and methods. I invite you to come, witness and join our practice.
Derek Minus, 6th dan
Chief Instructor